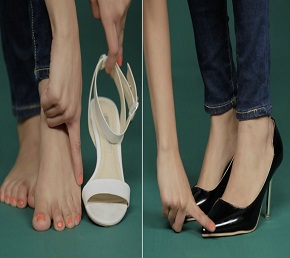 6 Comments
12.Dec.2022
When shopping for a new pair of shoes it is important to find a great fitting pair. If the shoe does not fit properly, it is less likely that it will be worn for a prolonged time in the future.
Finding a great fitting pair of shoes means that they will also be a great value as they will get a lot of use. When shopping for a new pair of shoes, there are several tips to follow to find the best fit possible.
Five Tips for Buying Footwear;
The shape and size of the foot will change with time and age. It is important to have the foot measured again if it has been a long time since it has last been done. This will ensure that the proper sizes and widths are being selected. It is best to measure the foot at the end of the day. This will compensate for any swelling that will occur during the day.
Many people have one foot that is slightly larger than the other foot. It is important to find shoes that fit the biggest foot. Finding a shoe that is too constricting may actually cause health problems to arise.
Do not purchase shoes that feel too tight when tried on. Shoes will not stretch out enough during use to make them comfortable. Also, shoes that place too much pressure on certain areas of the foot such as toes or heels are not properly fitting. They will not be worn in enough with time and should not be purchased. Also, the shoe should not be able to slip up or down on the heel when walking.
Shoes should be purchased based on the way they feel on the foot. The size on the shoe should not be the determining factor when buying a new pair of footwear. Make sure to walk around on a carpeted area to see if they feel comfortable when worn after a few minutes.
Select a shoe that is shaped like the natural shape of the foot. The materials that the shoe is made from should also be considered. The upper part of the footwear should have the natural shape of the foot which will allow it to flex and move when it is being worn. Thick soles should be considered for those who walk or stand on hard surfaces for extended periods of time. This will help to prevent any foot damage that may occur.
//console.log(heartArr);