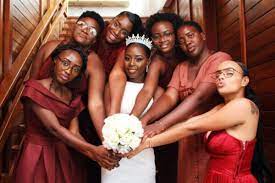 6 Comments
12.Dec.2022
Every Bride wants to feel like a princess on her special day. There are a few steps ahead of time to prepare the bride to be at her beauty best. Here are a few tips to get the bride beauty ready for her wedding.
Tips for Hair: First off do not experiment with any new hair colors or cuts right before your wedding. Start with a weekly conditioning of your hair a month before your wedding for a great shine. Hot oil scalp massages help with the strength and health of the scalp. The moisture will be restored in the hair as a result of the massage.
Try doing this as a group with your bridesmaids so their hair can look perfect for pictures as well. Minimize the usage of hair styling equipment a month before the wedding day. Hair dryers, flat irons, etc. Generate too much heat and may harm the hair before the wedding day.
Tips for Skin: Hydrate with plenty of water. This should give you a healthy glow and have your makeup glide on your skin. Use sunscreen, cleanse, tone, moisturize, exfoliate, and get enough sleep.
A facial a few weeks before the wedding can be great as well to help your skin glow. Inviting your bridesmaids to get a facial will help their skin glow for pictures. All these factors will help your skin look radiant and flawless on the day of your wedding.
Tips for Makeup: Some Brides go ahead and hire a makeup artist for their big day, but for the brides doing their own makeup here are some tips before the big day.
A month before the wedding visit a makeup counter to get a free makeover, and if you like the results consider which of the products you need to purchase. Then practice until you have the look your happy with.
//console.log(heartArr);