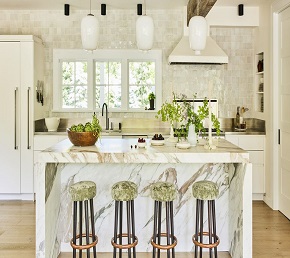 6 Comments
12.Dec.2022
If you are tired of the old look of your house or feel that you need more functionality, then you are probably considering a home remodeling. Of all the rooms in your house, a spanking new look for the kitchen adds greatest value to your interiors.
Kitchen remodeling is an enticing job, one that many families undertake after living with the same kitchen for more than a couple of years. However, to get the best look and worth from your new kitchen, it is important to keep certain points in mind while remodeling your kitchen.
Budget estimate:
With such variety and convenience at your fingertips, it is hard not to get carried away by all that is available in the market. New textures, raw materials, sleek designs and handy appliances can make your cost shoot up. So, before you even think about remodeling your kitchen, draw up a budget, and stick to it.
Get information about the cost of every component that features in your remodeling plan. Do not forget to enquire about labor costs, contracting services and applicable fee. Remember, the more you know, the better your chances of building a dream kitchen at an affordable cost.
Needs:
Consider your needs before you start remodeling. Do you use the kitchen often? Are you the sort who likes to cook a lot? Do you entertain in the kitchen? Do you have small children who love to spend time with you while you cook? Or, are you the type who dines out most of the time, and only need your kitchen during the odd weekend when your live-in maid is away on a vacation?
Your needs dictate the kind of kitchen you build. If you are building a custom kitchen, you may want to discuss this with the craftsmen who will be working on the job since they can often give you very good ideas.
Planning:
Plan your kitchen remodeling project carefully keeping the size, configuration and layout of the kitchen in mind. Should you have a parallel countertop or is it L-shaped? Should cabinets run along two walls or one? What sort of conveniences do you want? Make a note of all these so you can actualize your ideas when work actually begins.
Design:
Next, decide what kind of design you want. Should the décor be minimalist, contemporary or rustic? Contemporary designs are very flexible in terms of color and style. You have the freedom to experiment.
Traditional designs are more in keeping with the age-old look of classic, polished wood. The final look of your kitchen will depend on the design you choose. Keep in mind though that your kitchen design must match the décor of the rest of your house.
A nicely done kitchen remodeling job can bring your kitchen, and your house, to a different level. For this, you must make sure that you are using raw materials of established quality and superior workmanship.
//console.log(heartArr);